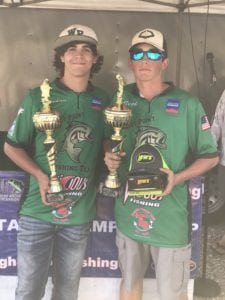 Seth Edwards and Jordan Camp of the West Point High School Fishing Team brought in four bass weighing 10.86 pounds to be crowned 2017 Mississippi High School Fishing State Champions.  The pair also took the Lew's Big Bass Award with a 6.94 pound lunker.
There was a great crowd for weigh-in to watch the field of 40 boats bring their fish to the scales.
Coming in Second place was Haze Hillhouse and Caden Cresap from Itawamba High School with 8.70 pounds.  Third place went to Garrett McWilliams and Addison Yates from Discovery Christian School with 8.46 pounds.  The final qualifying spot went to the fourth place team of Jake Donahoo and Tyler Alvis from the West Point High School Fishing Team with 7.98 pounds.  Fifth place went to Palmer Lockhart and Nichols Tyler from Tupelo Golden Wave High School.
The top four teams will advance to the National Event to be held this summer in conjunction with the High School World Finals in Florence, Alabama.
Thank you to the City of Aberdeen for all you do for the MS SAF Fishing Teams.