Ms Youth State Championship was held on July 8, 2017 on Columbus Lake, Columbus MS.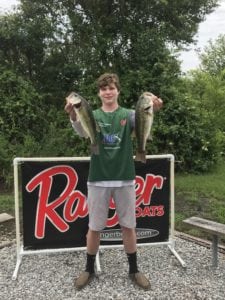 It was a tough day of fishing for our 14 youth competitors combined with a few thunderstorms but Dalton Smith brought in five bass weighing 9.24 pounds to be crowned Ms Youth Champion for the 4th year in a row.  He will represent Ms at the TBF Junior World Championship in August 2017.
Coming in 2nd was Jake Kimbrough with three fish weighing 5.73 lbs, 3rd was Drew Wright with two fish weighing 4.02 lbs, 4th was Drew Gideon with two fish weighing 3.71 lbs, 5th was Reed White with two fish weighing 3.16 lbs, 6th was Tyler Alvis with two fish weighing 2.96 lbs, 7th was Austin Perkins with one fish 2.81 lbs, 8th was Fisher Godfrey with one fish weighing 2.00 lbs, 9th was Mckenzie Bond with one fish weighing 1.93 lbs, 10th was Garrett Hendrix with one fish weighing 1.65 lbs, 11th was Mollie Brown with one fish weighing 1.50 lbs, 12th place was John Austin Ricks with one fish weighing 1.50, 13th was Ayden Gideon and 14th was John Michael Farr.
We want to extend a big Thank You to our sponsors for the products each competitor received in their tackle packs
.