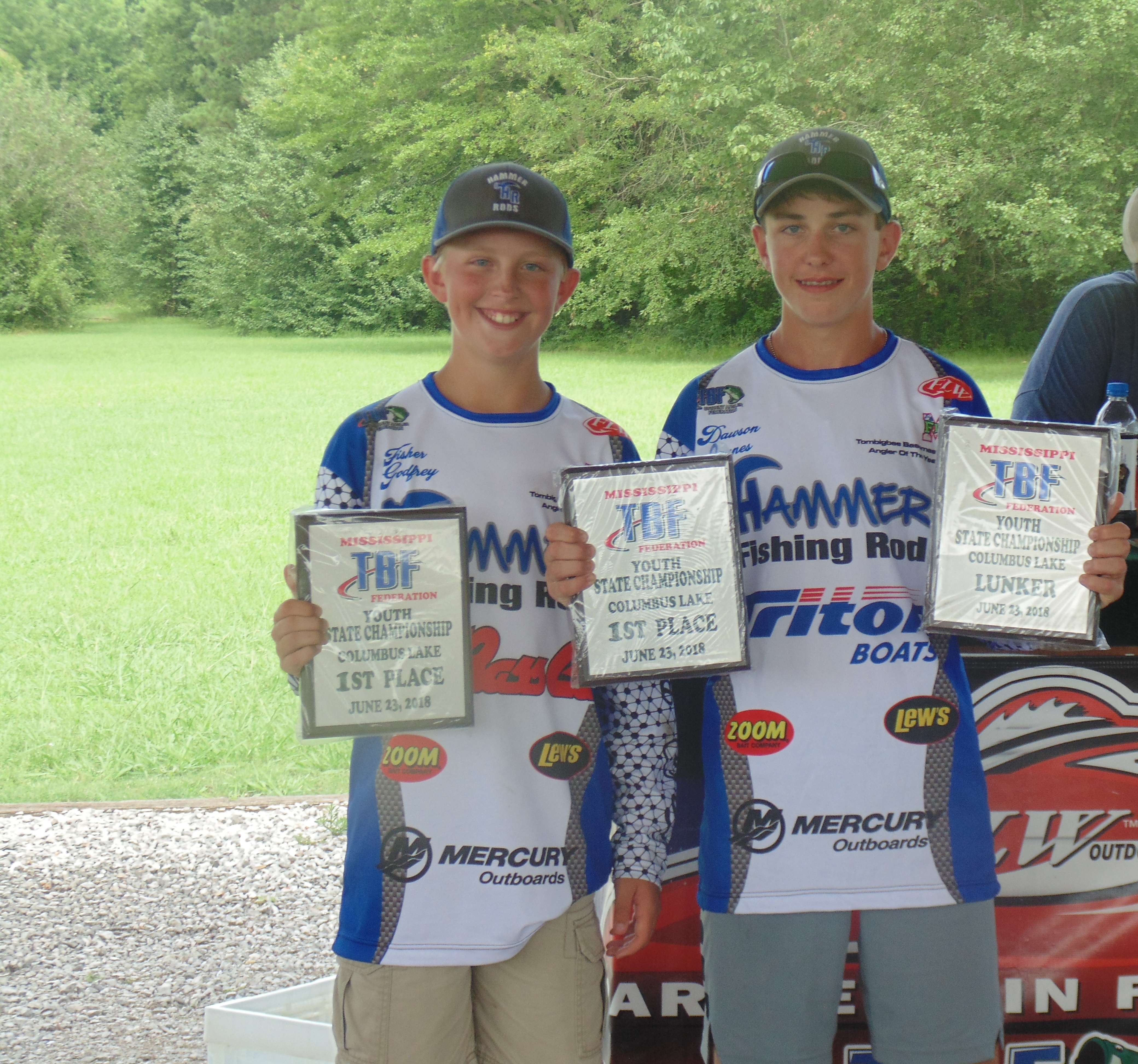 The 2018 MS TBF Junior Championship was held on June 23, 2018 on Columbus Lake in Columbus MS.  It was a beautiful day despite a few rain storms for the eleven teams competing.
Dawson Jaynes and Fisher Godfrey brought in five bass weighing 25.48 pounds to be crowned the 2018 MS TBF Junior State Champions.  The pair also took the Hammer Rod Big Bass Award with a 9.38 pound lunker.  Dawson and Fisher will represent MS TBF at the 2018 Junior World Championship August 9-11, 2018 on Lake Hamilton at Hot Springs AR.
Coming in 2nd was Noah Brooks and Tucker Brooks with five fish weighing 11.66 pounds.  3rd place was Reed White and Tyler Alvis with five fish weighing 11.08 pounds.  4th place was Calup Williams and Phillip Herring with four fish weighing 9.82 pounds.  5th place was Blake Duncan and Ayden Gideon with three fish weighing 6.88 pounds.  6th place was Drew Gideon and Andrew Stoddard with three fish weighing 5.92 pounds.  7th place was Ty Goff and Brieson Southern with three fish weighing 5.40 pounds.  8th place was Dillon Hesterman and Dylan Erkhard with three fish weighing 5.24 pounds.  9th place was Jackson Walters and Kenneth Thomas with one fish weighing 2.68 pounds.  10th place was Brady Gaskin and Dax Lewis with one fish weighing 1.96 pounds.  11th place was Chase Carr and Anstin Knowles with one fish weighing 1.80 pounds.
We want to extend a big Thank you to our sponsors, parents, and boat captains.